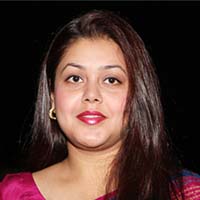 Noopurr R Chablani
Secretary
Proactive and a creative marketing professional Noopurr is an alumni of the prestigious Symbiosis Institute of Media and Communications. With over 20 years of work experience, Noopurr is a communication specialist in the travel and aviation industry.
Noopurr has been acknowledged for strengthening companies to lead in highly competitive markets and delivering innovative marketing concepts & strategies. A successful Public Relations professional she has steered the development and execution of strategic public relations campaigns aimed at meeting both business and communications goals, ensuring that campaigns leverage all applicable media, social and marketing channels.
A working mother to her 10 year old son she is married to Ritesh Chablani, an entrepreneur. An avid reader in her free time, Noopurr is passionate about reading especially biographies and aspires to write one day. With an internal ability to nurture Noopurr loves gardening and is a very vocal green crusader.